An Eggs-cellent Easter Tour
Here at Teach Rex, we believe that learning is a lifelong exercise, not something that should be limited to the classroom. We also recognise that getting children to actively learn outside of a school setting requires engagement between the children and their parents with our team. That's been part of the Teach Rex ethos from the very beginning—delivering education through entertainment—and nowhere is it more apparent than in our touring live shows.
We have just completed a fortnight-long tour across the UK, delivering almost 50 live shows at 14 venues throughout the country. Our team and our family of dinosaurs performed in front of excited and enthusiastic crowds, mostly made up of families, for the whole two weeks, playing before more than 10,000 people in total.
Our Easter tour took us all over England and Wales, from London, Brighton, and Bristol, through the Midlands, where we performed in Leicester, Birmingham, and Rugby, up to the North East and shows in Barnsley and Halifax. We stopped off at other locations along the way, including Liverpool, Gloucester, Cardiff, and Aylesbury. It's safe to say that we packed a lot into those two weeks. It's also safe to say that we loved every minute of it.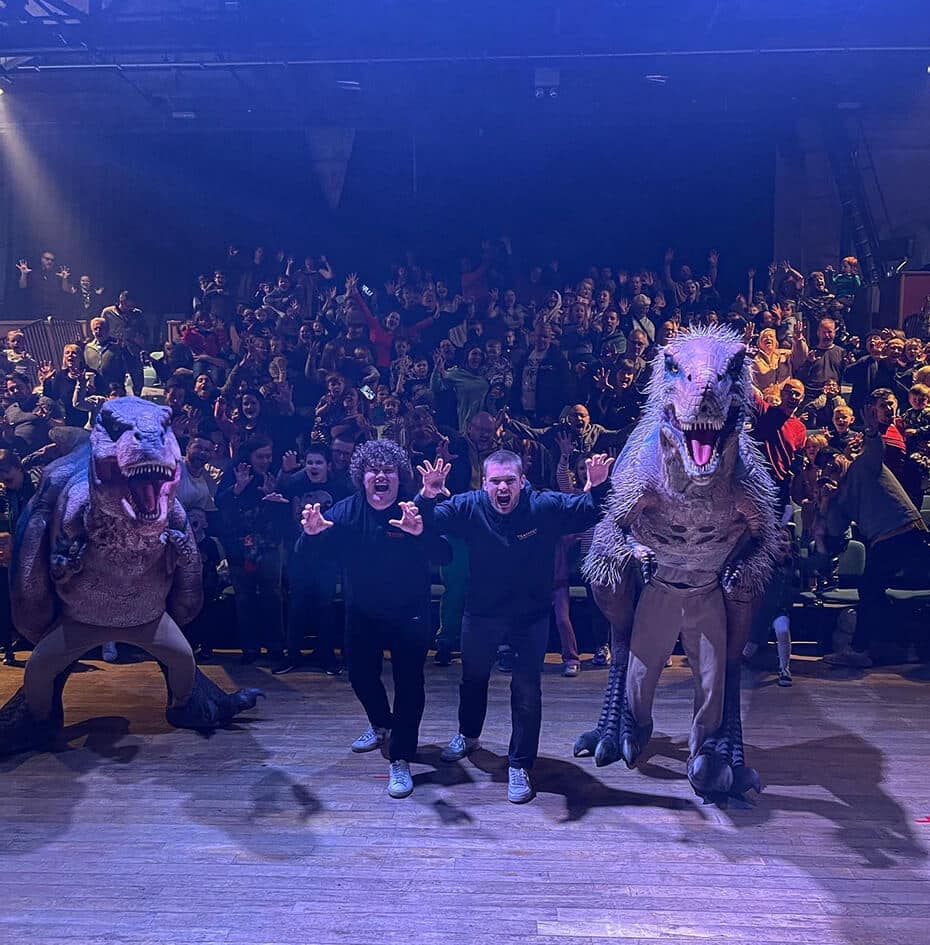 The Teach Rex Live Experience
Playing to a crowd of a few hundred people is very different from performing our workshops in schools, not least because those crowds often include older siblings, parents, grandparents, carers, and other grown-ups that maybe aren't anticipating the magic of a Teach Rex show as hotly as the younger children in the audience. That's to be expected, and it's one of the great challenges of the live tour. Nothing puts a smile on our collective faces quite like seeing a room full of people (old and young alike) really getting into the spirit of the show.
One of the best parts about our live Teach Rex tours is that they bring families together to enjoy a shared experience. We believe that a love for learning should be fostered in the home as much as in school, and one of the best ways to get your kids to want to learn for the sake of learning is to take part in the process with them. Why not start with our at-home learning resources we've developed with our partners at Teacher's Pet? You can find all of them here with easy instructions on how to brush up on your dinosaurs, dragons, and gorillas in the comfort of your own home.
This wasn't our first live tour, and it certainly won't be our last. We try to tour as much as possible, keeping us and our dinosaurs out of mischief during the school holidays. If you want to join us at one of our live events on our next tour, keep an eye out on our Events page or follow us on Facebook to find out the latest dates as soon as they're announced.