Dawn of the Workshop of the Apes
For the last two and a half years, the team at Teach Rex has delivered educational workshops to thousands of pupils in over 250 schools across the UK. With the help of our dragons and dinosaurs, we use props and storytelling as the foundation of our Science and Literacy workshops to promote a love of learning among the children we interact with.
These hand-tailored workshops, with their unique approach of narrative-led learning use powerful hooks to ignite the imagination of the children we teach. They offer an interactive educational experience covering Science, History, creative writing, and many other subjects across the National Curriculum.
With our family of dragons and dinosaurs, we help to foster an emotional attachment between the children and their learning. This inspires and motivates them to engage in a range of topics from Biology and storytelling to problem solving and History.
We are pleased to announce the latest addition to the Teach Rex experience – Thomas the gorilla.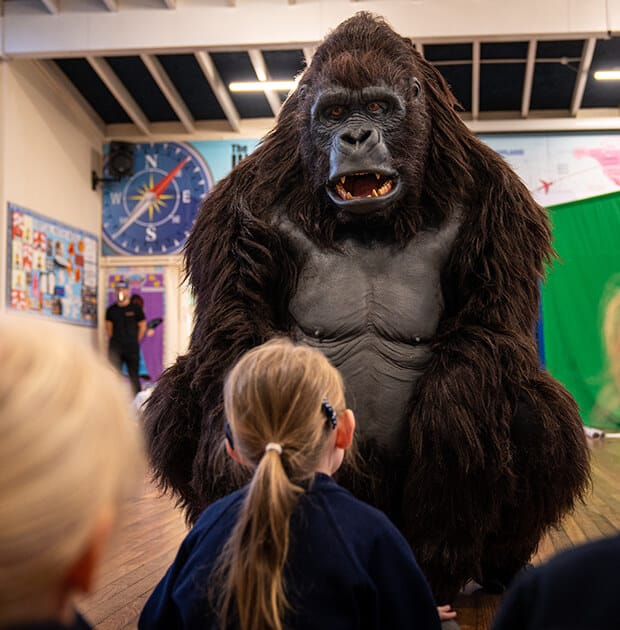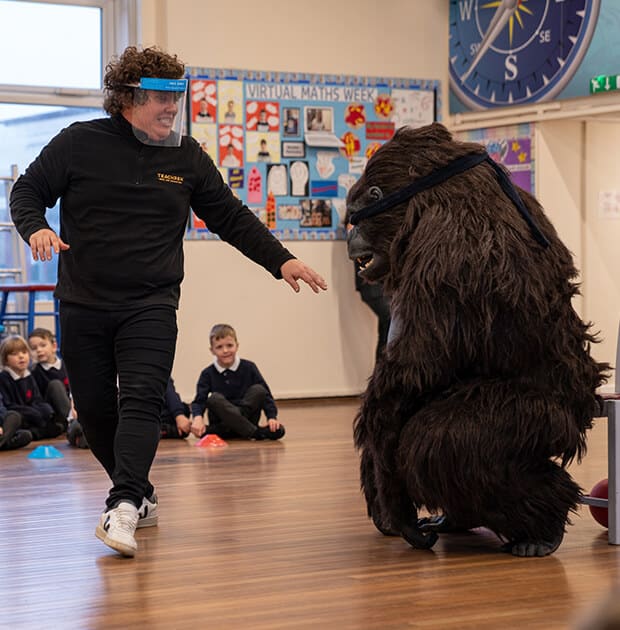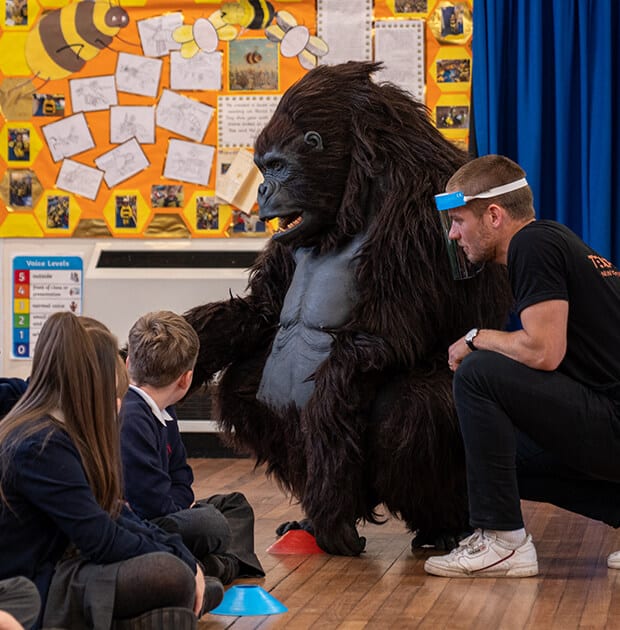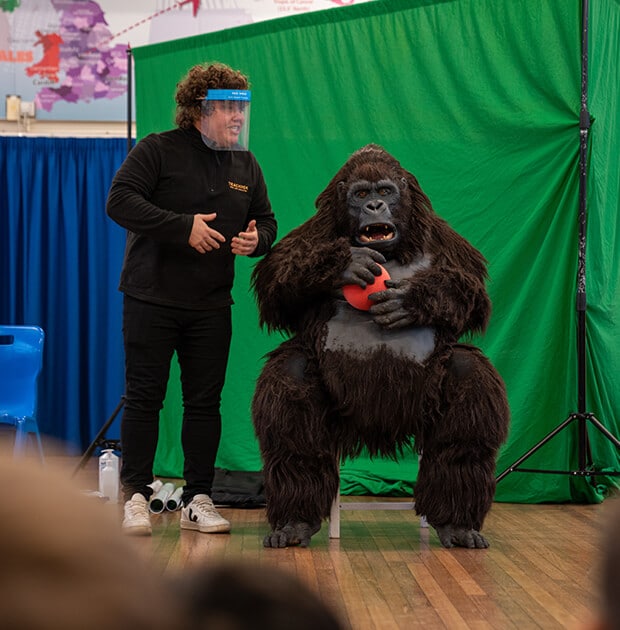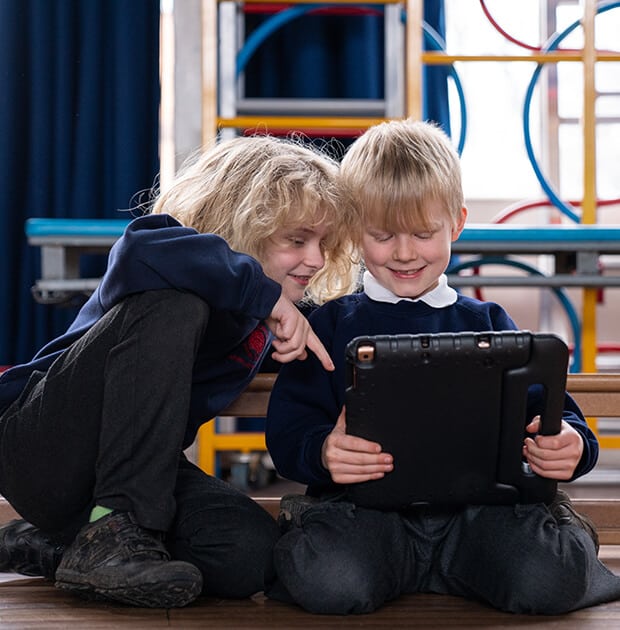 Thomas the gorilla is a life-like gorilla costume, worn and operated by one of our workshop facilitators. Just as our dragons and dinosaurs help us to engage with the children in our creative writing workshops, Thomas is here to support us in our efforts to promote sustainable behaviours and awareness among children.
Deforestation and human impact
Every year around the world an area of forest the size of the UK (26 million hectares) is lost to deforestation. The vast majority of that forest is rainforest, causing untold damage to wildlife. Over the last half-century, almost 20% of the Amazon rainforest has been destroyed. If current trends continue, it may cease to exist at all in another fifty years. However, human impact on the rainforests can be both negative and positive and behaviours are seeming to lean towards the latter. National governments and international organisations are putting laws in place in a concerted effort to reverse the current situation. However, much still needs to be done.
As teachers, it is our obligation to educate people from a young age about the importance of sustainable behaviours. We do this by linking our workshop materials to subjects within the curriculum – including science, English, geography and ICT. If humanity is to continue enjoying the splendour of the natural world then future generations – that is, the young people we are teaching today – need a fundamental awareness of the positive and negative impacts of humans on the planet. One thing that must be realised is that, while the planet will continue to survive, animals and humans on it may not.
Rainforests and biodiversity
Rainforests cover just 7% of the Earth's land surface, but are home to over 80% of known terrestrial species, not to mention tens of millions of indigenous people who rely on the rainforest for their day-to-day survival. They are essential habitats for many species and require looking after, particularly from humans that are seemingly intent on their destruction.
Our new rainforest workshop
Our new workshop aims to make a real difference, educating children from a young age in an engaging, immersive, and fun environment. This will help ensure that the children of today will grow, develop, and maintain a moral compass that points towards leaving a positive environmental footprint on the world we live in.
Prior to our visit, we send school staff a Teachers Idea Pack. These are differentiated from KS1 up to KS2 and have been created by experienced teachers from across the UK. The pack links a variety of books to purposeful, cross-curricular learning opportunities that continue children's learning once our team (and Thomas) leave the premises. Through our mutual partnering with businesses such as Teachers Pet, we can provide schools with further resources that can assist teachers in the classroom to consolidate the students' learning.
This has been our dream project since Teach Rex first launched back in 2018. We are delighted to finally be able to provide schools with a holistic package that delivers positive learning outcomes for the whole school, or whichever pupil groups they choose to target.
For more information about this, or any of our other workshops, visit teachrex.co.uk today or send an email to educate@teachrex.co.uk.