Four Fun Activities for National Storytelling Week
This year, National Storytelling Week runs from 30 January to 5 February 2023. It's an incredible opportunity to teach children about the importance of storytelling for its own sake, something that the team here at Teach Rex is totally in support of.
We understand that the core aspects of the English Language curriculum (vocabulary, spelling, punctuation, grammar, and so on) are essential to a child's development. However, there is much to be said for the act of storytelling itself, divorced from the linguistic tools that put a story together.
Storytelling is more than just reading words from a printed page. Storytelling is a communal activity, one that brings groups together through shared experience. Telling stories is as much of an important life skill as being able to write those stories in a grammatically accurate manner.
As a teacher, you have the opportunity to impart a love for storytelling to your pupils, and it's a crucial skill. Kids who learn to love stories learn to love reading; kids who learn to love reading improve their spelling, vocabulary, and other language skills enormously. But it all starts with a story—a "once upon a time," if you will.
These are four fun activities you can do in a classroom during National Storytelling Week that will help get your pupils' imaginations moving: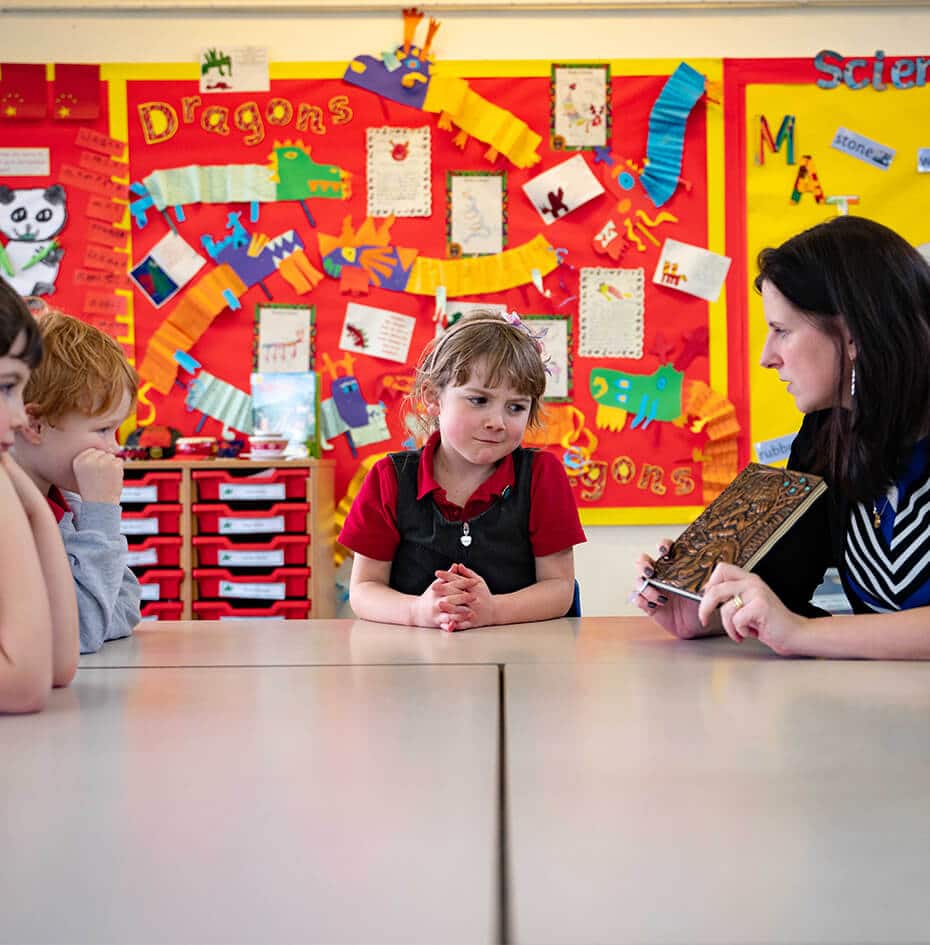 Most classes have regular storytelling time, but it often involves the teacher reading to the children from a text. Why not try putting a story together as a group, with each child adding the next part of the narrative? You can record the story as the children tell it and write it down once it's finished.
Story corners and book nooks
If you have free time during your school day, why not set up a reading space in the classroom where children can sit to do independent reading? If they've finished their lesson's work, having a space to read without distractions can be a great way to foster a love of stories.
Lots of children claim that they don't like reading, but for many, it might be that they haven't found the right book. Why not set up a classroom display for all pupils to recommend their favourite books to others in the class? While a book from a formal reading list might not appeal, a recommendation from a classmate might.
Get your class over the hump of thinking of a story idea by using writing prompts. Either give all of them the same prompt or have them pick prompts at random out of a bag. Have them concentrate on the story rather than the mechanics of writing, just for this one project, and see what they can come up with. Why not try some of the prompts and other resources over at our partner, Pobble?
Here at Teach Rex, we're fully booked for National Storytelling Week, as we're delivering our own special brand of storytelling to schools across the UK through our various workshops. But, of course, this is something that we do year-round. If you want to enquire about us bringing a bit of storytelling magic to your school, get in touch with the team today. Give us a call on +44 7585 705 967 or send an email to educate@teachrex.co.uk and let us see what we can do for you.