As regular visitors to our blog will already know, the Teach Rex team has been making strides to take our various workshops around the world.
We've already made several visits to Dubai in the United Arab Emirates (with more already booked in) and have been reaching out to schools in other countries to provide their students with the fun, excitement, and educational benefits that come with one of our popular workshops.
We have recently accepted a booking at the Tanglin Trust School in Singapore. We will be at the school for multiple days delivering our Gorilla Workshop, which covers important issues regarding the environment and sustainability.
We will be presenting the workshop to several of the classes during our brief stay in the country, with our intention, as ever, being to ensure that as many children as possible get to take part in the Teach Rex experience.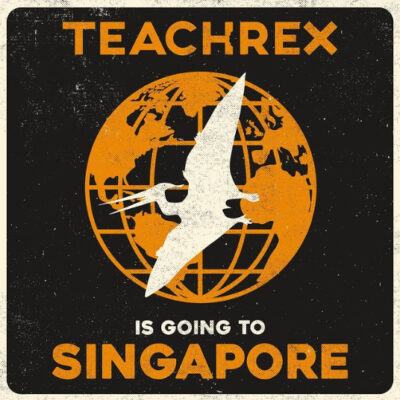 The Tanglin Trust School is a British International School, located in Singapore. There are around 3700 such schools operating around the world, attended by approximately 4.5 million students. British International Schools are educational establishments in other countries that follow the same curriculum as schools in Britain.
They predominately teach in English, even if that is not the native language of the country, and are particularly popular in countries with an historical or cultural connection to the UK.
The student body of most International British Schools is a mix of the children of British parents working in that country or of local children whose parents want them to enjoy the benefits of a British curriculum. Many such students choose to study in the UK later in life and get a firm foundation in British culture, values, and education.
This is obviously useful for the Teach Rex team since our workshops are already designed to slip seamlessly into the British National Curriculum, meaning the students at the Tanglin Trust School will get to enjoy our Gorilla workshop the way it should be experienced.

From Liverpool to Singapore, Discover Sustainability Worldwide!
Unleashing the thrill of knowledge to children worldwide holds unparalleled significance, transcending geographical boundaries from the vibrant streets of Liverpool to the captivating landscapes of Cairo, Dubai, and Singapore. Our remarkable journey of teaching has taken us across the globe, yet our resounding message remains consistent. – with an enchanting blend of topics.
Whether we embark on a journey to discover prehistoric dinosaurs, unleash the power of magical dragons, or shed light on the struggles of a survival-driven gorilla, our sole aim is to enhance writing outcomes. Every workshop we offer is fortified by the collaborative efforts of Pobble and Teachers Pet teams, curating resources that guarantee expansive and purposeful learning opportunities.
Keep your eyes peeled as our mighty army of dinosaurs descends upon the shores of Singapore -The question that lingers is, 'Where shall our footsteps lead next?
If you're interested in having the Teach Rex team to your school, get in touch with us today. Call us on +44 7585 705 967 or send us an email to educate@teachrex.co.uk and someone from the team will be in touch.