Young dragon workshops for younger children
We are pleased to announce the arrival of our new baby dragons to the Teach Rex family. These adorable little critters have given us the opportunity to create a brand-new series of workshops to enhance the learning experience for younger children.
After the success of our baby dinosaur workshops for nursery and EYFS children, it only felt right that some baby dragons would want to join in with the fun! Our baby dragons allow younger children to explore exciting new concepts that we have yet to approach in our previous workshops.
We understand that, friendly though they are, some of our bigger dragons might be a little daunting for younger children without the right building blocks in place to support them. With our newly-hatched clutch of baby dragons, that is no longer a problem.
In this article, we're going to take a quick look at our new workshops and how they can help younger children to make the most of their learning experience: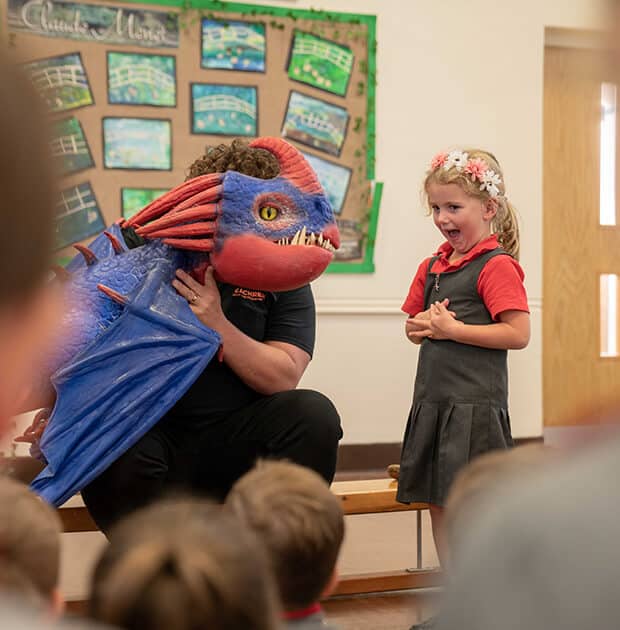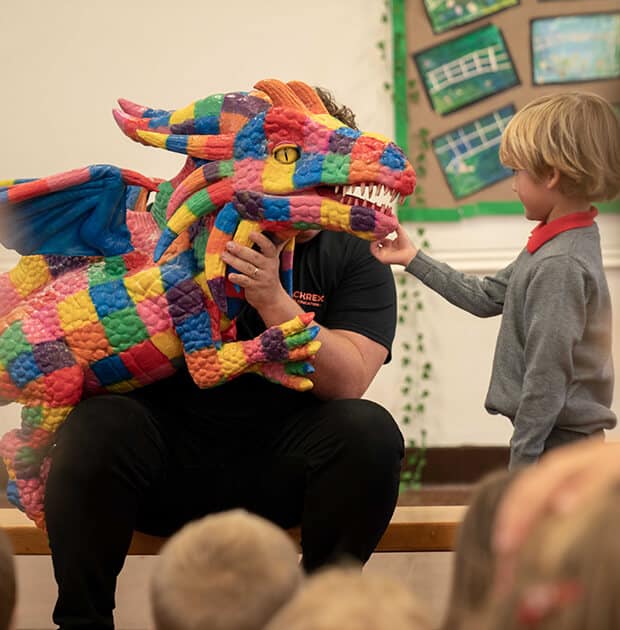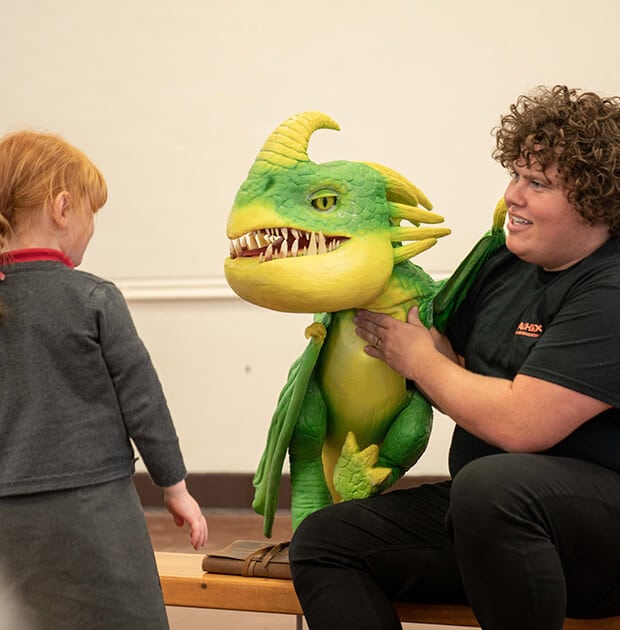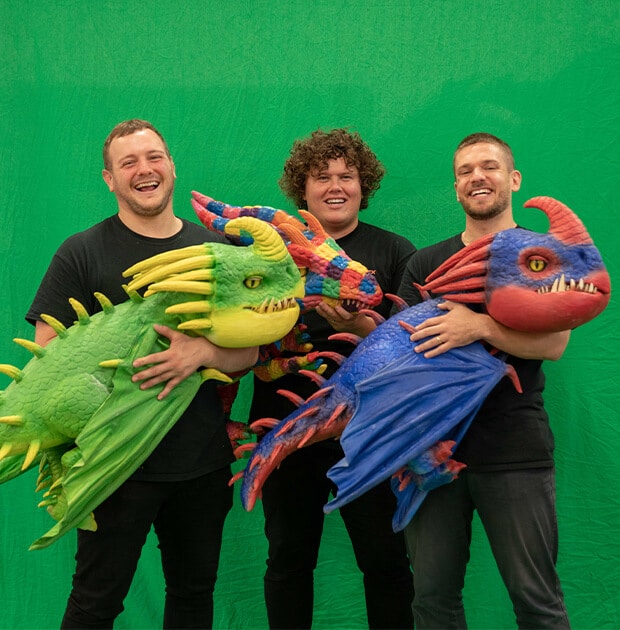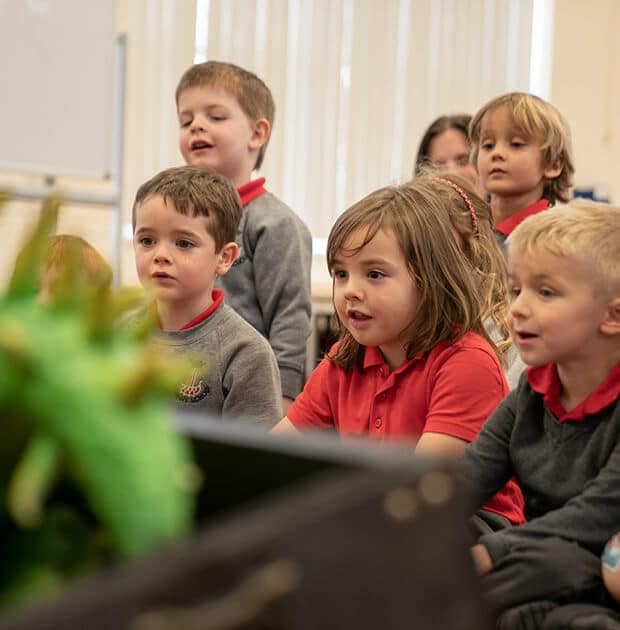 Workshop One: Meet the baby dragons – Storytelling
One thing we have learned through teaching EYFS children is the power of storytelling. During the workshop, children will become immersed in a giant magical book, filled with numerous stories, each one relating to a different dragon. The children will meet these baby dragons in turn, interact with them, and help to support them emotionally.
This workshop has been created by EYFS practitioners, focusing on personal, social, and emotional development. Through effective questioning, we explore different feelings and emotions with the children with the help of our dragons and the stories from the magic book. In one of those stories, the children's actions will even change the dragon's appearance — right in front of their eyes.
Workshop Two: Green screen
This second workshop is a fantastic way for the children to keep some evidence of their day with the dragons. We work in groups to edit, make movies, and take still photographs of the children against our green screen. With the right software, we can transport the children to the mountains,
long ago, when dragons roamed the world, letting them become a part of the stories they were listening to earlier in the day.
After meeting the dragons and getting to know their personalities, the children will be given the chance to choose their favourite and explain why this is. Finally, they are allowed to handle their favourite dragon and get a photograph with them to provide a memento of the big moment.
All photographs and videos will be edited on the day by a member of the team. These photos and footage will be sent to the teaching staff before we leave for the day. Everything will then be deleted from our computers and cameras, in accordance with our strict GDPR guidelines.
Workshop Three: The Dragon!
We believe that dragons are creatures that provoke wonder rather than fear. From the very start, we have encouraged younger children to interact with our larger dragons, and this is something we intend to continue. This workshop will take place in a relaxed atmosphere, and we will prepare the children for the big event throughout the morning sessions. We make sure that they are comfortable with our presence and that of the baby dragons. Using the magic of storytelling, we create an emotional attachment between the children and the dragons, leading up to the big reveal. The story ends on a cliffhanger, giving the children an opportunity to continue the magic on their own by verbally finishing the story themselves.
If you have any concerns or queries about your EYFS children meeting our larger dragons, please let us know so we can talk you through the process. At Teach Rex, we pride ourselves on creating an environment in which our dragons and their stories bring smiles rather than screams.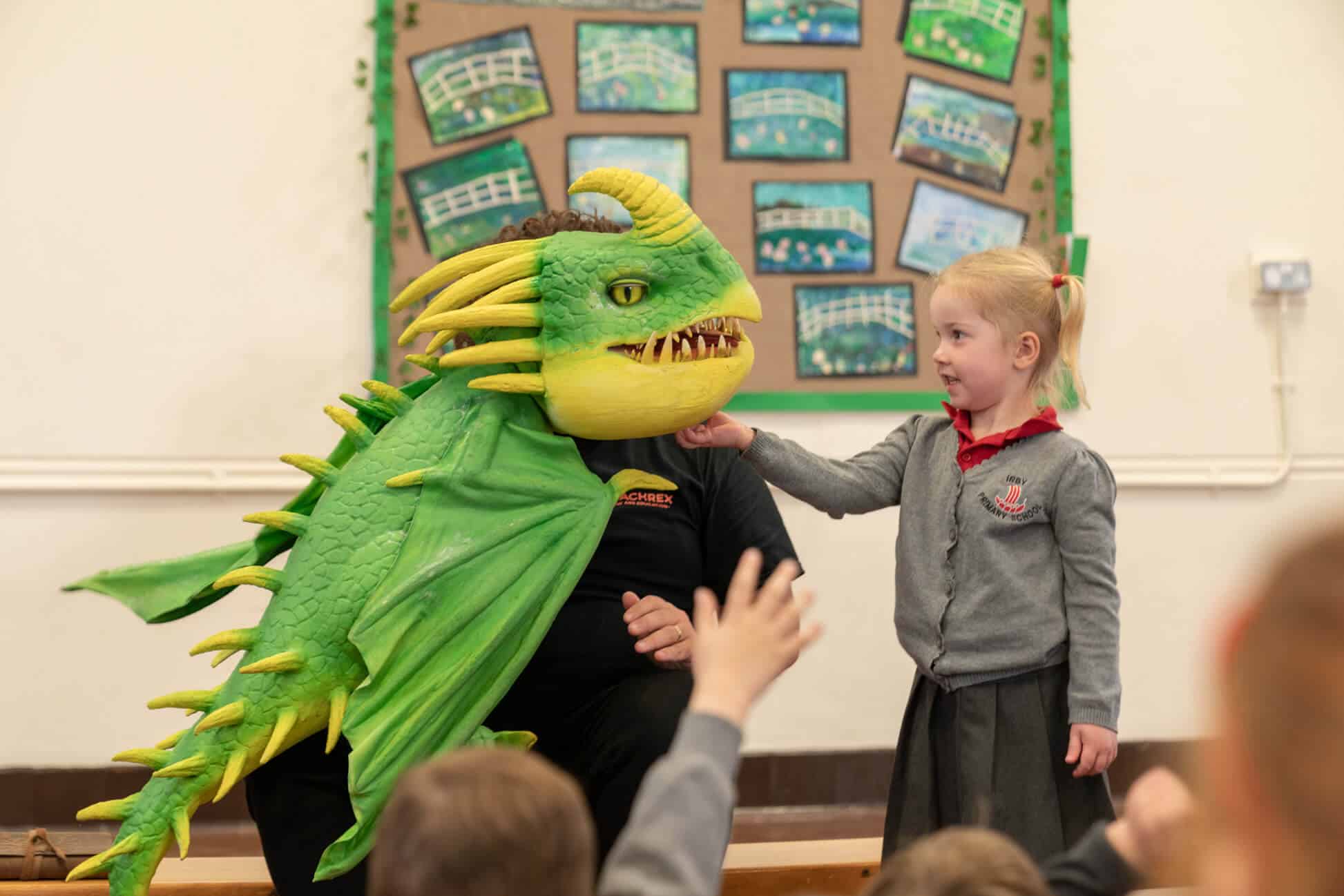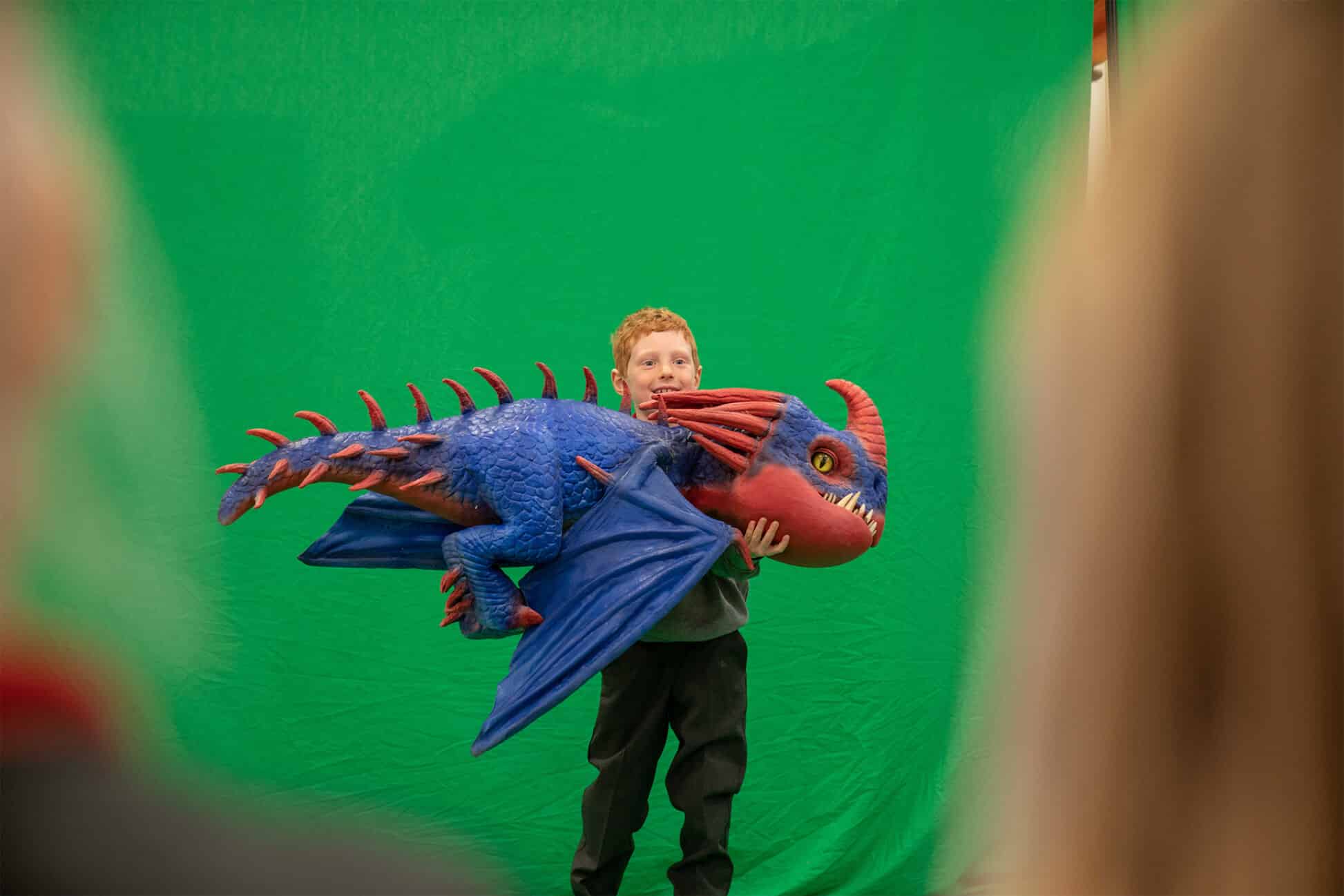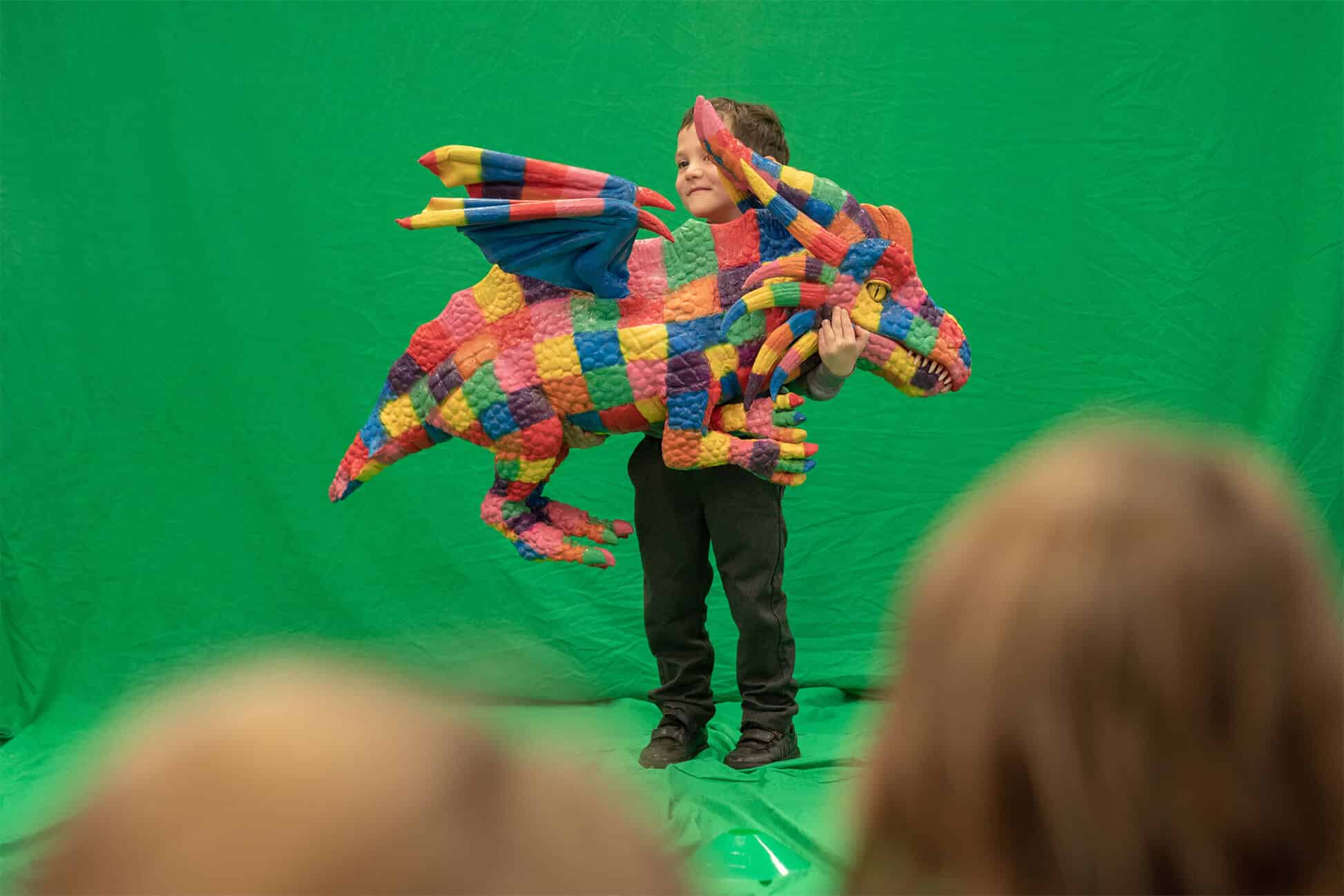 Here at Teach Rex, we are not just dinosaur and dragon wranglers, we are also teachers ourselves. We understand that every school has its own way of working and know how important a regular routine is, especially for the youngest members of the school. To that end, we're happy to adjust any aspect of our EYFS workshops to meet the needs and expectations of your Nursery and EYFS provisions. We will spend time with you ahead of our visit, structuring the day to make the best use of our time in your school.
To discuss our baby dragon workshops (or any of our other sessions, for that matter), contact the Teach Rex team today. Call us on +44 7585 705 967, or send us an email to educate@teachrex.co.uk, and someone from the team will be in touch.